D. Kyle Stearns Contracting is a drainage contractor Hebron CT who can correct basement flooding, driveway flooding and erosion on your property. Because there may be more than one factor responsible for your wet basement or driveway puddles, you want an experienced company to assess your problem. Seasonal rainstorms, rapid snowmelt, insufficient gutter drainage, improper grading, and garage roof runoff can cause unwanted water flow.
Check Your Basement for Signs of Water Damage
One of the least obvious places to look for faulty drainage is your basement walls. Look for signs of dampness, dripping, or flaking of the surface concrete on unfinished walls. Early signs reveal big trouble brewing. Water is going to find a way to breach your concrete, eventually weakening the wall. When the concrete foundation is no longer a barrier, it doesn't take long to compromise the foundation. When that happens, your home is ruined. French drains and driveway channel drains can be installed to catch and draw water flow into drain pipes flowing out into the storm sewer or street.
Foundation Drains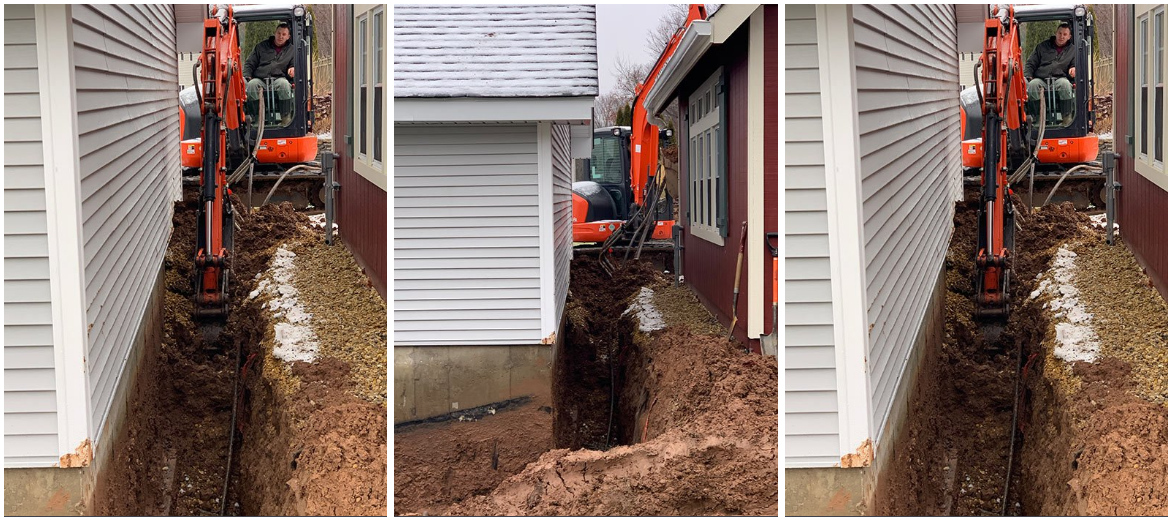 When you experience puddling in front of your garage door, Kyle can eliminate the problem by installing appropriate drains to guide the water away from the building. As a licensed drainage solutions contractor we install Curtain Drains, Foundation Drains, Catch basins, Culverts, Downspout Extensions and Underground gutter drainage.
Check your home for signs of water infiltration, then call Kyle Stearns to do a professional inspection. As a full service excavation company, we inspect and correct the grading around your house. Be proactive and keep your home secure and dry. If you have a wet basement, ponding, puddling, erosion, or other issues, give us a call. D. Kyle Stearns Contracting is the leading drainage contractor serving Hebron CT and all of Tolland County. Call 860-450-1592 for a consultation today.