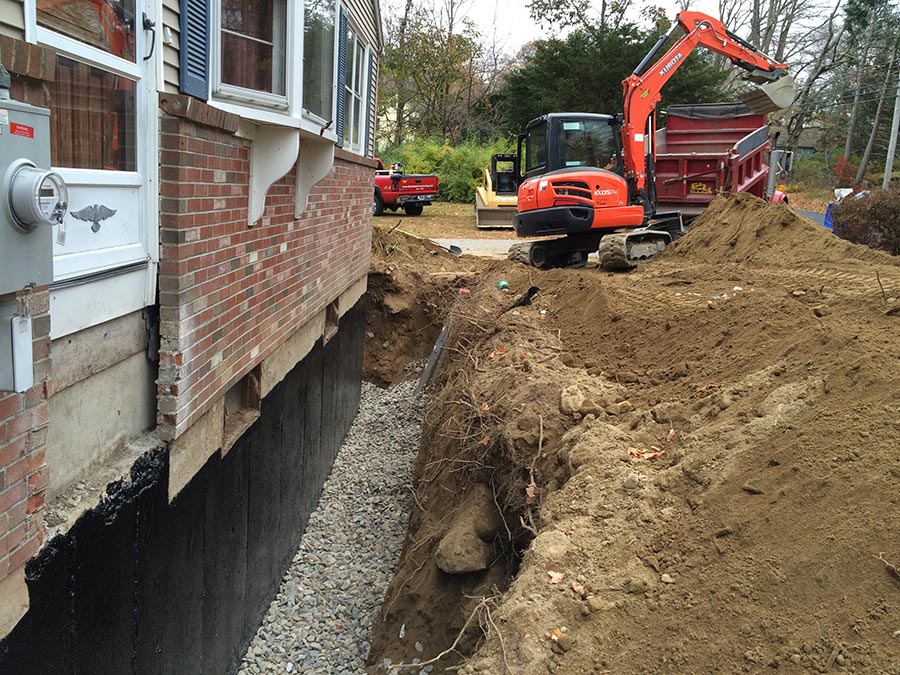 Prevent wet basements with proper foundation drainage in Scotland CT. When you find wet walls and floors in your basement, get proactive and find the cause. Call an experienced drainage contractor for the job: D. Kyle Stearns Contracting Inc. Basement flooding may cause serious damage to your walls, flooring, furnishings, keepsakes, and your family's health. It is common to find some water seepage into the basement after wet weather. Although it may not seem critical, you should have a drainage specialist determine the source of the leak and eliminate it.
Water can seep into the basement for many reasons. A seasoned drainage specialist will inspect the grade of your yard, check for clogged gutters and other issues. Does rain water and roof runoff pour sheets of water beside your foundation? Land that slopes toward the house can coax water toward your foundation. Poor site drainage that is not corrected can actually lead to cracking and foundation collapse.
Drainage problems which are not corrected can cause a host of new problems over time. Long-term damage leads to fractured foundations, rotting wood, flooded basements, damage to landscaping and crumbling asphalt. Damp walls, carpeting and floors can foster the growth of harmful black mold on floors, walls, and your furnishings.
D. Kyle Stearns Contracting is a licensed Connecticut drainage contractor. We inspect and correct the grading around your house, when necessary. We install Curtain Drains, Foundation Drains, Catch basins, Culverts, Downspout Extensions and Underground gutter drainage.  If you have a wet basement, ponding, puddling, erosion, or other issues, give us a call. D. Kyle Stearns Contracting is the leading drainage contractor serving towns and villages in eastern Connecticut. Call 860-450-1592 for a consultation today.