D. Kyle Stearns Contracting should be your first choice to improve yard drainage in Franklin CT. Kyle Stearns, the owner, will examine your yard, evaluate your current grading, and fix any problematic drainage on your property. Water damage and erosion can result from property grading issues, strong autumn rains, and spring thaws. In order to avoid foundation damage, basement flooding must be stopped as soon as possible. Basements that are always wet harm furniture and encourage the growth of hazardous mold. Unrepaired drainage issues may eventually result in more severe and extensive damage. Following an intense downpour or quick snow melt, many homeowners face wet or flooded basements. Kyle can determine the source of water entry and totally correct it.
The foundation might be directly flooded by roof runoff due to something as simple as clogged gutters. We will examine the grade of your landscape and determine how to correct water flow away from vulnerable regions. Long-term damage causes crumbling asphalt, rotting wood, flooded basements, toxic mold growth, fractured foundations, and damage to the landscaping. Inadequate grading allows water to move in the direction of the foundation. Land that slopes inward toward the home might also guide water to flow towards your foundation. Failure to address poor site drainage can eventually result in foundation collapse. The top drainage contractor in eastern Connecticut is D. Kyle Stearns Contracting.
When you find water collecting in your garage after a storm, give Kyle a call. Faulty drainage can weaken and break up your asphalt driveway over time. Kyle can eliminate driveway puddling by installing appropriate drains to guide the water away from the building. As a licensed drainage solutions contractor we install Curtain Drains, Foundation Drains, Catch basins, Culverts, and Underground gutter drains. We inspect and correct the grading around your house. From wet basements and driveway drainage to culvert repair, D. Kyle Stearns Contracting does it all. If you have a wet basement, ponding, puddling, erosion, or other issues, give us a call at 860-450-1592.
Foundation Drains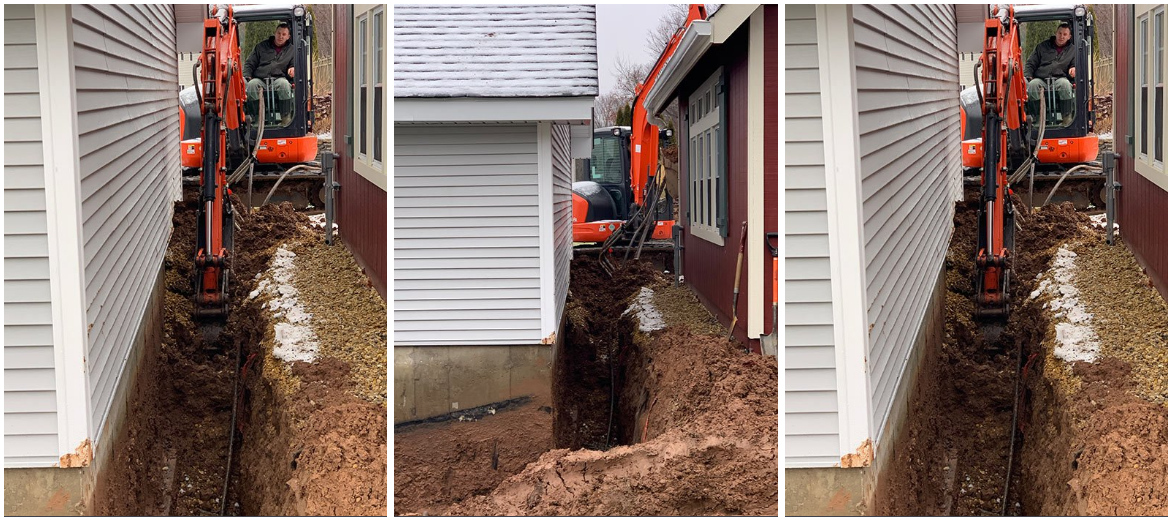 Culvert Repair