When you need a drainage contractor Plainfield CT, make D. Kyle Stearns Contracting your first choice. Owner Kyle Stearns will inspect your yard, assess your existing grading and repair faulty drainage on your property. Spring thaws, heavy rains and poor property grading can cause water damage and erosion. It is important to eliminate basement flooding early to prevent foundation damage. Damp basements lead to damaged furnishings and promotes dangerous mold growth. Drainage problems that have not been corrected may cause more serious and widespread damage over time. Many homeowners experience damp or flooded basements after a heavy rain or fast snow melt. Whether your home was built last year or in the colonial era, Kyle can determine the source of water entry and totally correct it.
Something as common as clogged gutters can cause roof runoff to spill water right next to the foundation. We will assess the grade of your landscape and determine how to correct water flow away from sensitive areas. Long-term damage leads to cracked foundations, rotting wood, flooded basements, dangerous mold growth, damage to landscaping and crumbling asphalt. Water can flow toward the foundation due to incorrect grading. Land that slopes inward toward the house can also guide water to flow towards your foundation. Poor site drainage that is not corrected can eventually lead to foundation collapse.
Foundation Drains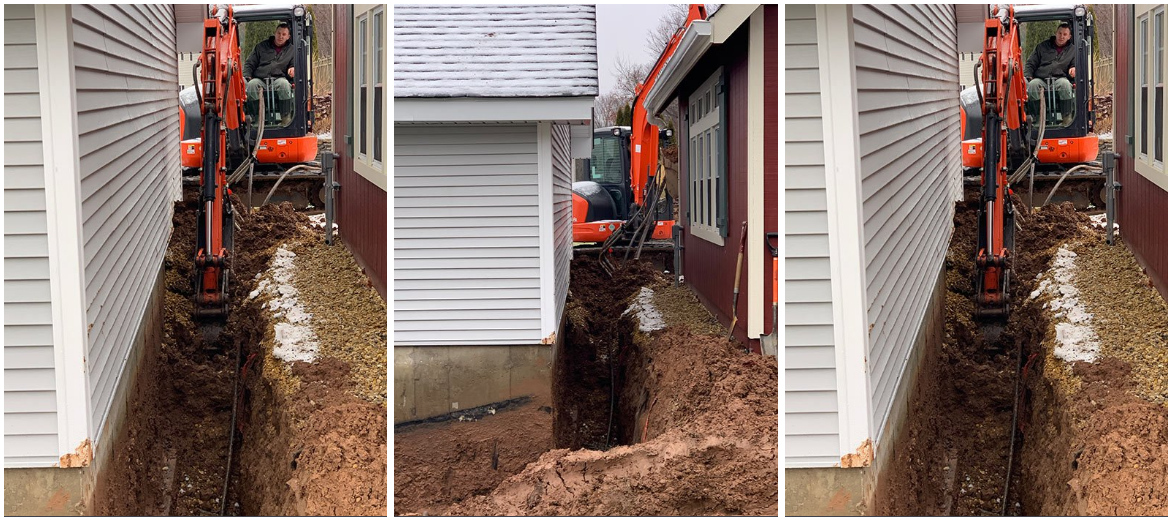 Faulty drainage near your asphalt driveway can weaken the pavement over time. If you are finding water in your garage or beside your driveway, Kyle can fix that too. Kyle can eliminate driveway puddling by installing appropriate drains to guide the water away from the building. As a licensed drainage solutions contractor we install Curtain Drains, Foundation Drains, Catch basins, Culverts, and Underground gutter drains. We inspect and correct the grading around your house. From wet basements and driveway drainage to culvert repair, D. Kyle Stearns Contracting does it all. If you have a wet basement, ponding, puddling, erosion, or other issues, give us a call. D. Kyle Stearns Contracting is the leading drainage contractor serving eastern Connecticut. Call 860-450-1592 for a consultation today.
Culvert Repair