When you need the best drainage contractor in Somers CT to eliminate yard flooding, contact D. Kyle Stearns Contracting Inc. Serving Tolland County and all eastern Connecticut customers since 1996, owner Kyle Stearns will resolve your yard flooding quickly. From yard erosion, to wet basements, to driveway drainage, to culvert repair, D. Kyle Stearns Contracting does it all.
Kyle will inspect your property and determine how to correct water flow away from sensitive areas. Uncorrected water seepage toward your foundation can cause serious damage. Long-term ramifications can include cracked foundations, rotting wood, flooded basements, dangerous mold growth, damage to landscaping and crumbling asphalt. Are your flooding issues seasonal, during or after heavy rainstorms, or after deep snow melt? Are there areas of puddling or erosion around your home? Drainage problems that have not been corrected may cause more serious and widespread damage over time.
Because there may be more than one cause of yard flooding, you want a professional team on the job. Many rural customers have concerns about water leaking into their basement after wet weather. Sometimes the culprit is clogged gutters, causing rain water and roof runoff to spill water right next to the foundation. Water can flow toward the foundation due to incorrect landscape grading. Land that slopes inward toward the house causes water to flow unimpeded toward your foundation. Because the worst outcome of water seepage could include foundation collapse, you should call Kyle Stearns for a consultation without delay. Customer Satisfaction Guaranteed.
Foundation Drains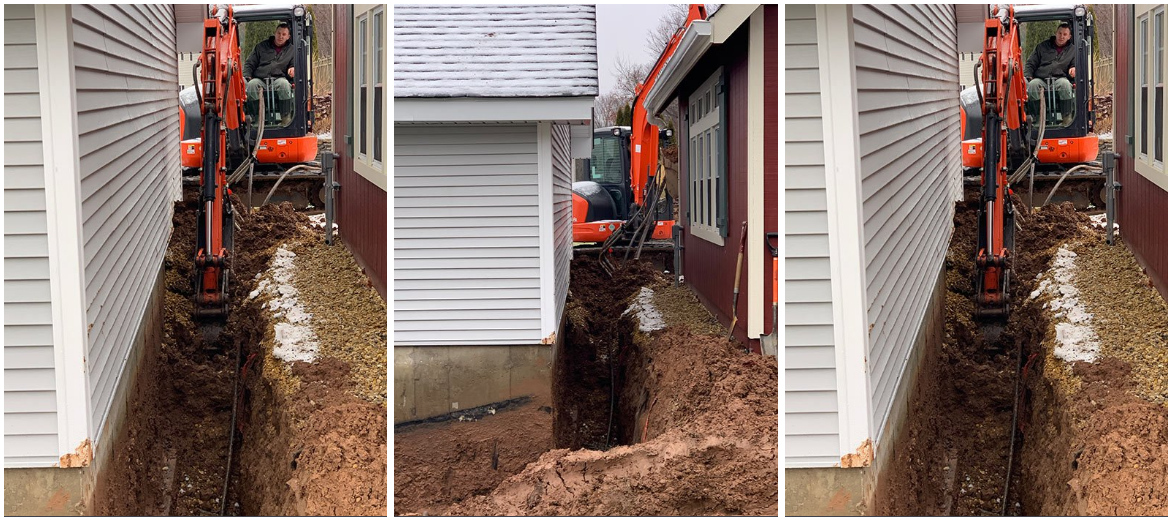 As a licensed drainage solutions contractor we install Curtain Drains, Foundation Drains, Catch basins, Culverts, and Underground gutter drainage. As a full service excavation company, we inspect and correct the grading around your house. If you have a wet basement, ponding, puddling, erosion, or other issues, give us a call. D. Kyle Stearns Contracting is the leading drainage contractor serving Somers CT and Tolland County. Call 860-450-1592 for a consultation today.
Driveway Drains
Grading
Culvert Repair