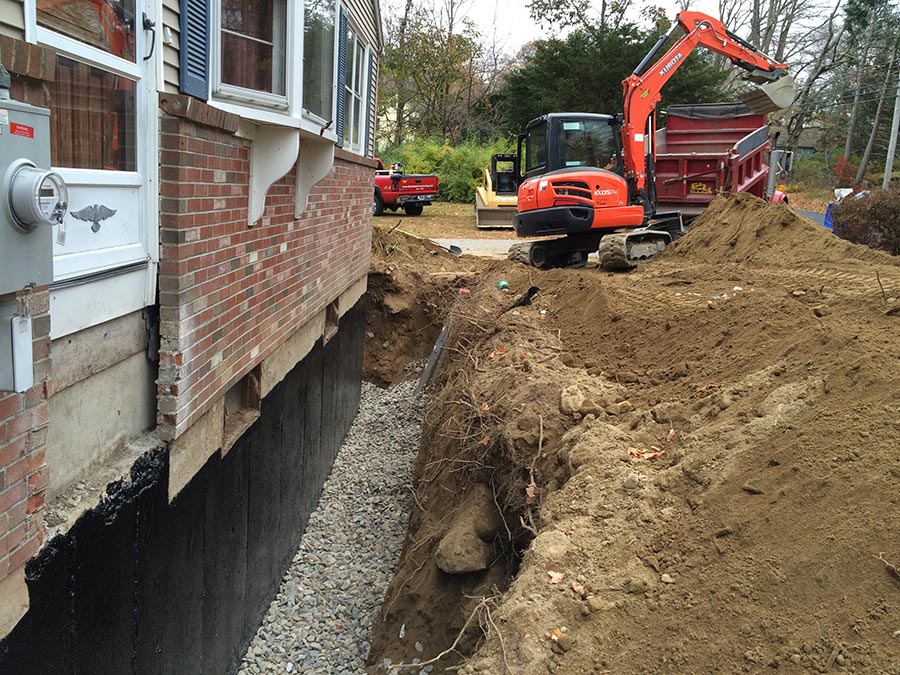 D. Kyle Stearns specializes in wet basement prevention Storrs CT. There are several reasons you experience water accumulation in your basement. Many rural clients have called us out because water leaks into their basements after wet weather. Often the culprit is clogged gutters, causing rainwater and roof runoff to spill water next to your foundation. Sometimes water will be diverted toward the foundation due to incorrect grading. Land sloping toward the house causes water to flow right to your foundation. Poor site drainage that is not corrected may lead to foundation collapse.
Drainage problems that are not corrected can cause a host of new issues over time. Long-term damage leads to cracked foundations, rotting wood, flooded basements, damage to landscaping, and crumbling asphalt.
As a licensed drainage solutions contractor, we install Curtain Drains, Foundation Drains, Catch basins, Culverts, Rain Gutters, and Underground gutter drainage. As a full-service excavation company, we inspect and correct the grading around your house. If you have a wet basement, ponding, puddling, erosion, or other issues, give us a call. D. Kyle Stearns Contracting is the leading drainage contractor serving Storrs CT and towns in surrounding areas. Call 860-450-1592 for a consultation today.